Board of Directors
Community Visions & Networking (Quinte) is governed by a community-based volunteer Board of Directors.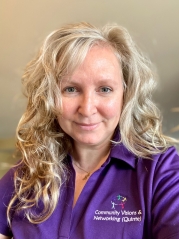 Jennifer Parker
Bio:
Long-time resident of the Quinte area community and was raised in Belleville. She has worked at Loyalist College as a Strategic Analyst since 2013. She is an active member of the Quinte Curling Club, and also volunteers her time on the Special Education Advisory Council for the Hastings Prince Edward District Public School Board. She has served on the Board of Directors for Community Visions and Networking (Quinte) since 2015.
---
Rebecca Kerr
Bio:
Rebecca has a comprehensive background in not-for-profit organizations, as she has devoted her entire career working within the developmental services sector. Rebecca has experience with residential & respite services as well as community participation, and many other areas of the sector. Outside of work, Rebecca enjoys spending time with her family & friends, and enjoying the outdoors.
---
Andrea Critch
Bio:
Andrea is a newer board member and learning lots. When not working or with the board, she loves spending time hiking with her dogs and being outdoors.
Since working in the non-profit sector and seeing how much of a difference it can make, Andrea wants to get involved helping the local community.
---
Donalda Sherk
Bio:
Educator, retired from HPEDSB, responsible for developing and implementing "hands on" learning programs to prepare young adults with special needs for successful living after graduation.
Long serving volunteer having held the positions of Vice Chair, Chair and Past Chair for CVNQuinte.
"People are like snowflakes - no two alike, and each one contributing to the greater whole."
---
Julie Allen
Title:
Policy Committee Chair
Bio:
Julie considers herself a Self Advocate. She is married and enjoys learning new things. She would like to find employment. She has received support from other agencies in her past but currently receives support from a team of people she interviewed with the help of CVNQuinte. She chooses what supports she wants, when she gets it, and who she has doing it.
She enjoys volunteering her time to teaching employees and people receiving supports by the agency about their rights. She has a passion for teaching others what they should expect from the employees and how someone should express their needs to someone supporting them.
---
Melissa Haig
Bio:
Melissa has served on a variety of local boards over the years in differing capacities and for different community organizations. As the owner of KKP Belleville, a local printing and signage company, she has a variety of applicable organizational experience: marketing, policy creation and finance. As a new member of the CVNQuinte board she hopes to give back to the Belleville community by serving CVNQuinte as they provide services for community members.
"The purpose of life is not to be happy at all. It is to be useful, to be honorable. It is to be compassionate. It is to matter, to have it make some difference that you lived."
---
Rik Smythe
Bio:
Rik has lived in the Quinte area for 15 years with my wife Krista and daughter Makenna. I have worked in the Financial industry for 32 years and extremely proud to be a part of the CVNQuinte family.
---
Beth Campbell
Bio:
Beth is an active member of our local community, volunteering her time whenever possible. Beth was raised and attended school in the Quinte area. Beth's contributing knowledge, skills, and abilities are derived from many years of experience with the government protecting public safety.
---